Upcoming Activities
Noonday Prayer Services on Wednesdays at Noon 
Mobile Medical Equipment and Supplies
Every Monday at the Food Lion Parking Lot in Lovingston Virginia from 10:00 a.m to 12 noon.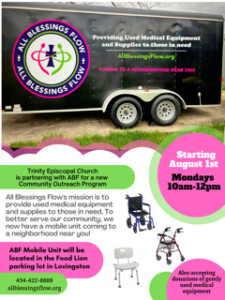 Trinity has partnered with All Blessings Flow (faith-based nonprofit organization) to provide used Medical Equipment and Supplies to those in need. The mobile unit will be at the Food Lion Parking Lot every Monday from 10 a.m. to 12 noon to provide used medical equipment and supplies to those in need and to accept donations of gently used medical equipment that will be cleaned, refurbished and redistributed to those in need. 
Every Third Monday of the Month from 10:00 a.m. to noon alongside the Mobile Medical Equipment tent, there will be the American Heart Association and friends holding a Blood Pressure Clinic. Please spread the word that people can come and have their blood pressure checked by a nurse for free.
For more information, please contact Rev. Donna Steckline at Trinity Episcopal Church at 434-263-5721 or visit www.allblessingsflow.org.
Blessings Pantry Free Food and Supplies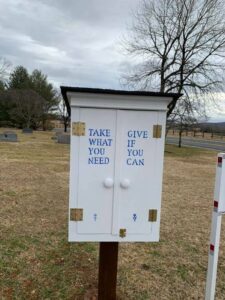 Trinity has one of the Community Blessings Food/Supplies Pantries in its parking lot. We are receiving donations from the Church and from the Community.  Please consider donating items to the Pantry and spreading the news to the community where the pantry is located for those in need. 
We need a good stock to keep the pantry flowing with God's blessings.
Items that are important include:
Canned meat and/or fish
Cereal
Canned Fruit and Vegetables
Soups
Hand Sanitizer
Dishwashing Liquid
Laundry Soap
Dryer Sheets
Bath Soap
Toothpaste and Toothbrushes
No glass and no expired foods.
Please bring your items to the Parish Hall. Thank you.